Home
Talk

0
163pages on
this wiki
Before progressing any further, please note that this site contains SPOILERS regarding the series Nanatsu no Taizai.
Welcome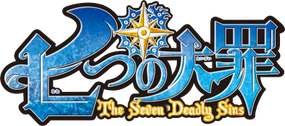 Welcome to Nanatsu no Taizai Wiki, a wiki dedicated to everything related to the manga series Nanatsu no Taizai, that anyone can edit. Please help by editing or adding articles and lessening the stubs. We currently have 7,357 edits to 163 articles and 753 images on this wiki.
Navigation
Administrators • Requests for Adminship • New Photos • New Pages • Image Policies • Help Wiki • References
Characters
Featured Article
Seven Deadly Sins

The Seven Deadly Sins was the strongest and cruelest order of knights in the kingdom formed by brutal criminals who carved symbols of seven beast onto their body. They are currently branded as traitors of Britannia.

Elaine

Elaine (エレイン) is the sister of King of the Seven Deadly Sins. She is also the Guardian Saint of the Fountain of Youth, who was killed by a monster of the Demon Clan at the Fairy King's Forest. She now resides at the Capital of the Dead.
Did you know...?
That the exterior of the Boar Hat has the same colour scheme as Meliodas?
Diane loves eating whole roast pigs?
That nearly every single character who has met Hawk is astonished that he is able to talk?
Twigo is the only appeared character who keeps a moustache?
That Hawk wears an ear ring with the phase Star Boar?
Ban is weak to alcohol even though he drinks a lot?
That Hawk's Mother's fur is green colored?
Hawk is not a big fan of beef?
Ban is actually a pretty good cook?
Geera's eyes appear to be naturally closed?
That the hilt of Veronica's sword has a similar shape as her belt's?
Volume 3 is to be released on June 17, 2013? [NEW]
Meliodas served tastier food in the One-Shot? [NEW]
The book which Dreyfus read in Chapter 29 showed images Meliodas' shadow and the symbol which appeared on his forehead? [NEW]

That the black spots on the back of Hawk forms the shape of a four-leafed clover?
That there are only 3 tables in the Boar Hat?
Ban obtained his current clothes from frightened civilians of Dalmary Town?
That Hawk and his mother only has one eyelash?
Andre's partner's hairstyle and beard is moon-shaped?
King's helmet is shaped like the Slime in Dragon Quest, and that his name is a possible reference to the King Slime?
That Ban is twice as tall as Elizabeth who is taller than Meliodas?
King's shoes are buttoned?
King and Elaine are over 700 years old?
That the monster from the Demon Clan can scratch its belly with its extremely sharp claws?
That in the One-Shot, the Boar Hat was carried by a spider-like machine instead of Hawk's mother? [NEW]
That the Boar Hat was originally going to be called Avallo? [NEW]
Recent Wiki News
External Websites
Featured Media
Wiki Poll
Past poll results • Polls Archive
What did you think about the Side Story, Bandit Ban?
Results of Previous Poll
Which is your favorite fight in the Baste Dungeon Arc?
Meliodas vs. Ruin = 18 (52.94% of all votes)
Meliodas vs. Golgius = 7 (20.59% of all votes)
Meliodas vs. Diane = 3 (9.09% of all votes)
Ban vs. Jude = 3 (9.09% of all votes)
Diane vs. Friesia = 2 (5.88% of all votes)
Ban vs. Jericho = 1 (2.94% of all votes)
Latest Chapters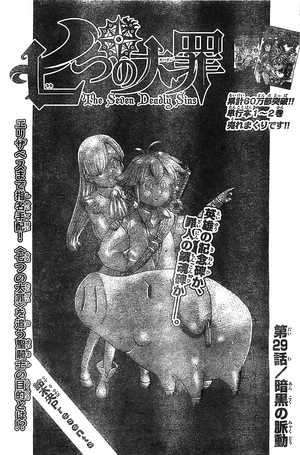 Featured Images
Affiliations
Contact the admins
for affiliations with
Nanatsu no Taizai Wiki