Home
Talk

0
294pages on
this wiki
Before progressing any further, please note that this site contains SPOILERS regarding the series Nanatsu no Taizai.
Characters
Featured Articles
Gowther

Gowther (ゴウセル, Gouseru) is a member of the Seven Deadly Sins and the Sin of Lust with the symbol of the Goat. He is first mentioned to be engaged in battle with the order of Holy Knights, Dawn Roar.

Threader

Threader (スレイダー) is a Holy Knight and the captain of the infamous knight group Dawn Roar, known for their relentlessness to complete any mission they are assigned.
Did you know...?
That the exterior of the Boar Hat has the same colour scheme as Meliodas?
That nearly every single character who has met Hawk is astonished that he is able to talk?
That Hawk wears an ear ring with the phase Star Boar?
Ban is weak to alcohol even though he drinks a lot?
That Hawk's Mother's fur is green colored?
That in Bandit Ban, the color page spelled Bandit Van instead of Ban?
That Gideon's length is greater than Diane's height?
That Geera's makeup done by Meliodas in Chapter 26 is shown differently in Volume 4?
That the Demon in Chapter 25.5 could also form wings like Meliodas?
That the sacred tree protects itself from outside enemies by shape-shifting the moss that grows on itself to fight?

[NEW]

That the black spots on the back of Hawk forms the shape of a four-leafed clover?
That there are only 3 tables in the Boar Hat?
Hawk is not a big fan of beef?
Diane loves eating whole roast pigs?
Ban obtained his current clothes from frightened civilians of Dalmary Town?
Andre's partner's hairstyle and beard is moon-shaped?
That Ban is twice as tall as Elizabeth who is taller than Meliodas?
King and Elaine are over 700 years old?
Meliodas served tastier food in the One-Shot?
That Ban was executed a total of 33 times?
That Hawk is skilled at sewing?
Meliodas is currently in his thirties?
Volume 6 is to be released on December 17, 2013?

[NEW]
Recent Wiki News
External Websites
Featured Media
Featured Image
Latest Chapter
Chapter-56Chapter-56 | Chapter-55Chapter-55 | Chapter-54Chapter-54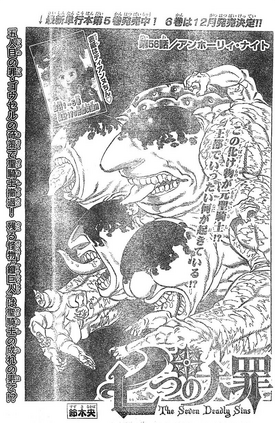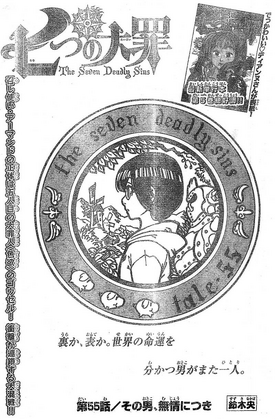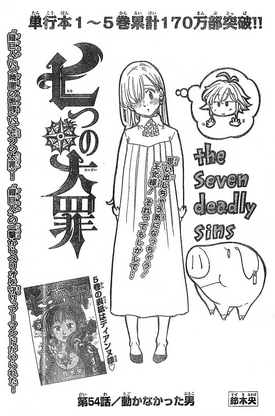 Wiki Poll
Past poll results • Polls Archive
Are you excited that The Seven Deadly Sins is licensed by Kodansha Comics?
Results of Previous Poll
Who will conclude the dramatic battle in the Byzel Arc?
Diane! She'll obliterate Helbram! = 53 (70.67% of all votes)
One of the three unrevealed Deadly Sins will appear! = 12 (16.00% of all votes)
Nah, Helbram will prevail. = 10 (13.33% of all votes)
Affiliations
Contact the admins
for affiliations with
Nanatsu no Taizai Wiki